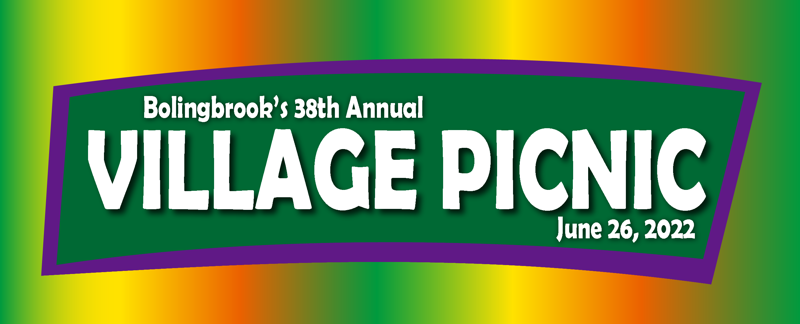 March 01, 2022
Dear Organization,
The Village of Bolingbrook Civic and Cultural Affairs & Parade Commission will be hosting the 38th Annual Village of Bolingbrook Picnic, which will be held at the park behind Town Center on Sunday, June 26, 2022.
The Village Picnic is a service that we provide to the residents of Bolingbrook to introduce the residents to the different organizations, church groups and services available to them as residents of Bolingbrook.
Space: Each organization will be strategically spaced promoting social distancing. You may bring your own 10x10 tent to allow shade to your area. (We cannot guarantee or provide specific shaded area.) We are asking everyone this year to keep their display and space to a maximum of a 15x15 area.
Tables: You may bring your own table and chairs. We will also be able to provide tables for rent. Their size is 30" x 8' - There will be a charge of $15.00 per 1 table & 2 chairs.
Outlet: 110v/20w – Limited power is available on the grounds. The Commission will NOT provide power extension cords. If electricity is needed, please indicate the intended use of the outlets. We must have this information prior to the deadline date, as it is vital in determining the layout of the picnic. Close distance to the power supply is not guaranteed, so please bring a 100ft extension cord.
Advertising: Any business and/or commercial advertising or circulating among the picnic crowd WILL NOT be allowed under any circumstances. Only distribution of your organization's information, pamphlets, flyers, and the like must be done within your allotted space.
Please keep in mind that if your group plans on selling food or non-alcoholic beverages, you MUST always keep gloves on. In addition, all participants selling food or beverages must comply with Will County Health Rules and Regulations. A copy of these rules will be available on our website. Please read through them carefully (gloves, hand sanitizer, and where necessary, head coverings such as baseball caps or bandanas will be required, etc.). You will be responsible for submitting your own form to the Will County Health Department, and failure to do so will result in you not being able to sell on the day of the picnic (forms must be filed 7 days prior to picnic with Health Department).
All food vendors are still required to use a Health Department approved vending tent which will be provided by the Commission for a $25.00 fee. This fee also provides one 8' table and 2 chairs. The supply of tents is limited, and will be reserved on a first come, first serve basis. This requirement is strictly enforced by the County Health Inspectors.
We will also have some Village Sponsored Food Booths available for organizations that would like to provide volunteers to run the booth from Noon – 5pm. We will give a donation to your organization, group or church and we will provide everything else. Please This email address is being protected from spambots. You need JavaScript enabled to view it. as this will be on a first come first serve basis. Thank you for assisting us.
We ask that all organizations refrain from holding raffles unless it is FREE and the give-a-way item is given there on the spot and that it is not a requirement for them to give you any contact or personal information. Free is FREE.
We encourage organizations to have Free "fun-fair" style games for the children that will help to promote and provide awareness to your booth. If your group is interested in having games but not sure what to do, please feel free to contact the Village Picnic Chairperson before setup and we will try to assist you.
In an effort to complete spacing and set up of each organization and the need to send maps out to all groups, there will be a June 20, 2022 deadline for completing the Online Participation Form.
Participation is subject to social distancing spacing and approval by the Commission.
Please note the following:
Setup MUST be completed by 11:00am; All vehicles MUST be off the grounds by 11:00am. You can begin setting up anytime after 8am.
NO CARS WILL BE ALLOWED BEHIND TOWN CENTER BETWEEN 11:00am AND THE CLOSE OF THE PICNIC!!
If you come late, you will not be allowed on the grounds with your car to unload. You will need to self-transport items to your designated area.
All participants MUST be open from Noon to 5:00pm. Please be sure to bring adequate supplies and/or products to avoid leaving before 5:00pm.
Once approved, there is to be no deviation from the Participation Form, unless approved by the Commission.
It is always recommended that Masks be worn during any communication.
Participants MUST provide any additional resources required.
Thank you for your participation in this year's Village of Bolingbrook Picnic 2022. Together we can make this event the success it is every year!
Should you have any additional questions or concerns, please leave a message via email at This email address is being protected from spambots. You need JavaScript enabled to view it..
Sincerely,
Tammy Plata, Organization Chairperson 2022 Village Picnic
Joe Gross, Chairperson, Village of Bolingbrook Civic & Cultural Affairs Commission