Welcome Craft Show Vendors
2022 Jubilee Needs You!
Crafters needed!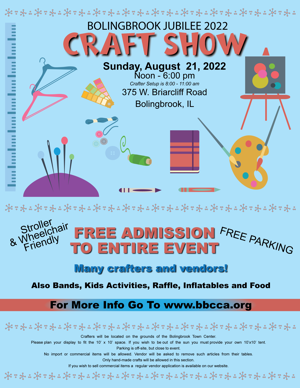 From noon until 6:00pm, on Sunday, August 21st
Bolingbrook will be hosting the Jubilee 2022 Craft Show. What a perfect place to market those wonderful handmade items.
Fees for the craft show are $20.00 per 10' x 10' space plus a refundable $10.00 "clean-up" deposit.
Seniors are Free (but must still provide the $10 "clean-up" deposit).
Entries received after August 14th may be charged a $30.00 late entry fee, get your application in today!
Crafters will be located on the grounds of the Bolingbrook Town Center. Please plan your display to fit the 10'x10' space, unless you purchase more than one space.

If you wish to be out of the sun you must provide your own 10'x10' tent. Some spaces on a windy day will be subjected to some mist from the fountain of the pond on a very windy day, this is unavoidable, so be sure you have a tent side if this matters to you.

Parking is off-site, but close to event.

No import or commercial items will be allowed. Vendor will be asked to remove such articles from their tables.
Only hand-made crafts will be allowed in this section.

Click Here to fill out our ONLINE Craft Show Application. (PREFERED METHOD for quick acceptance)
Click Here to download printable version of the Craft Show Application and Mail in.
(If you want to sell manufactured items or you are a Home Based Non-Service Business such as Tupperware, PartyLite, MaryKay, etc. or a another type of vendor Please Use This Link.)